It's really been a while, right? Since my last post, I defended my dissertation, graduated, got a job, and moved to the D.C. area. I still knit and post pictures over on Ravelry (user name "mwedzi"), but haven't blogged. Anyway, I made my first knit dress, so that's pretty blog-worthy, right?
It's made with Berocco Vintage DK in green, brown, white, and magenta. And I finished in a speedy 3 1/2 weeks! I wasn't sure about the climate where I live now and wanted to make sure I finished before it got too warm to wear it. Needn't have worried about that, as this was in February. This area is warmer than Chicago, but it ain't that warm. Anyway, here's the finished piece:
With a jacket: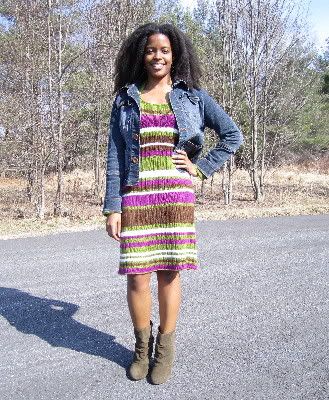 From the side: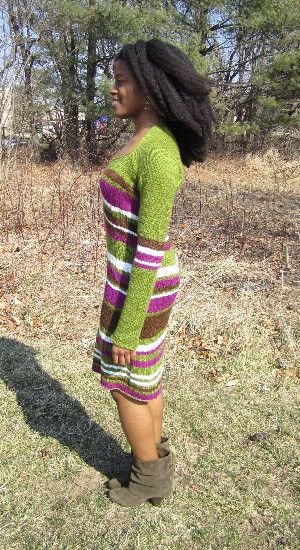 And from the back: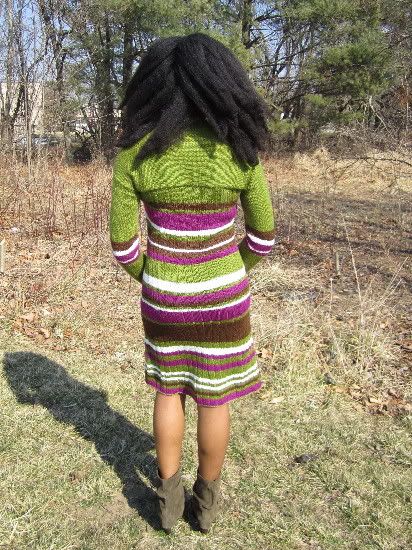 Is it familiar? This dress is just the popular Knitty pattern
Tubey
, but made longer. I added a bit of waist shaping, but that's it.
I really like working with the yarn. It's a little itchy on my sensitive shoulders, but other than that, no complaints. It seems like the type of yarn that will not pill, yet is still soft. Is a little splitty, but I don't mind that.
I'm happy with it. :)