Well, knitters, I like to talk about hair more than knitting now. :) And I wrote this blog on a hair care forum, so I had to dedicate a post to hair styles.
**Notice, yes, I asked all the hair folk if I could post their pics**
Okay, last entry. When we left off, we were out on the town and I was looking for a pic of someone's hair. Thando pointed a woman out to me. Turns out she was a hair dresser! She was very flirty and asked if I wanted her number, haha. Too bad that I was leaving in 2 days and I like boys. But I got cute pictures anyway: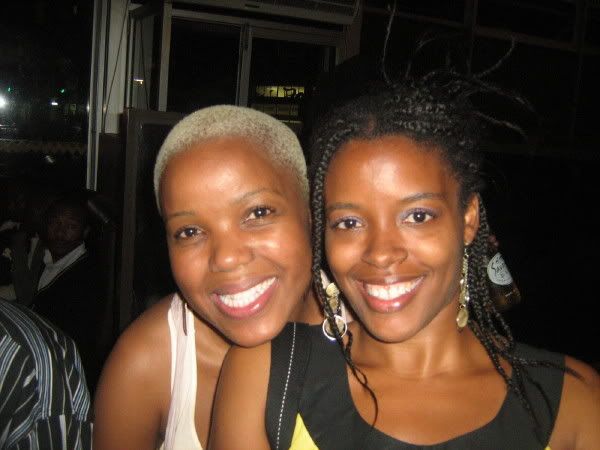 Let me stop here to say that, unfortunately, South African black women suffer from all the same hair ills that American black women do. Natural hair is a bit more common there, but there are also a lot of bad relaxers. However, I got nothing but love and lots of it for my hair, which really set me apart. Most people's hair is a lot shorter than mine. They abuse their hair just like black women do here. Uncared-for relaxers and very dry and broken off natural hair. The combing is brutal, just like it is here. It was kinda sad to see, though I guess I already knew it having been to S. Africa and Zim before. I was not into hair back then so didn't pay as much attention.
As far as I can gather, Zulu women traditionally kept their hair cut very low. Nowadays, braid extensions are really popular and there are braid shops on almost every corner in the city. It's pretty cheap and prices generally top out at $25 for braids but can be as cheap as $10 in the salon and cheaper if your friend does it. Relaxers start at $5 in the salon and seem to top out around $10. (these are not high-end salons; i wasn't in a high-end neighborhood). Dark and Lovely relaxers and products are popular. So are Sta Sof Fro, where that brand has waaaay more products than we do for it here.
So let's get a few more styles.
This was done by just take a section of hair and twirling it around the finger. No products were used: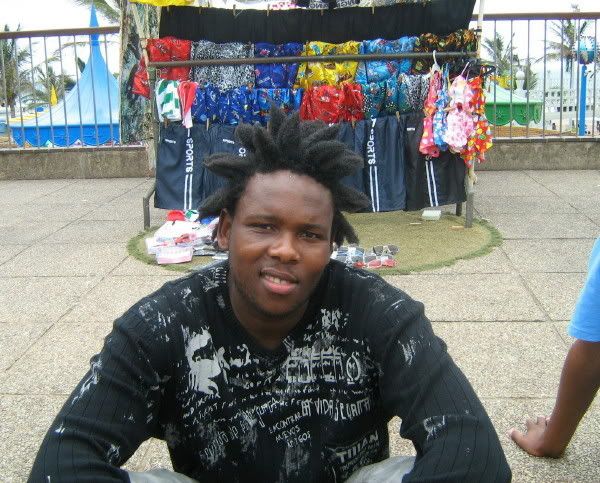 This was done by washing hair and just pressing the palm against the head and rubbing in circles to force clumping:
Here is a girl getting her hair braided in the township. Her hair is relaxed here. They often do the braids really thick. I think they put about twice as much fake hair per section as I did for my braids: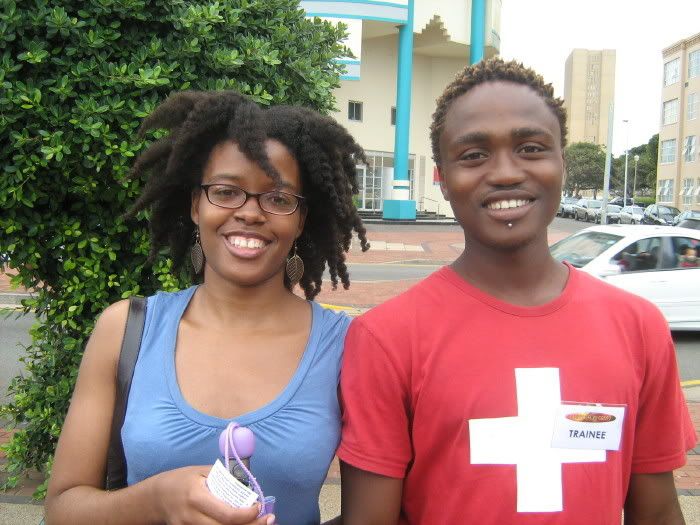 There was some version of threading where they wrapped thread around the hair as it was cornrowed or braided down into place. I didn't see it often, but happened to get this girl's hair in a pic of a musical theater performance. You can see a piece of the thread sticking out: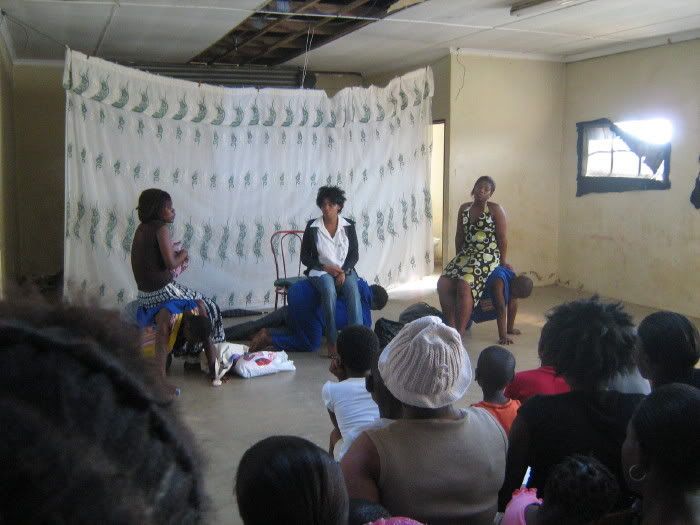 Here's a short natural style, looking pretty nice I think:
Among natural styles, a short afro like above was popular, also the chunked look like in the picture of the guy on the beach. Also some locs, though definitely more popular amongst men.
So that wraps up my South African trip blog posts. I had a great time! Hope you enjoyed reading these.